In addition to an overview/review of the 5E model and the STEM disciplines, the Guest Editorial: Using the BSCS 5E Instructional Model to Introduce STEM Disciplines (in Science & Children)has a framework and suggestions for integrating the Model and STEM disciplines into planned and purposeful instruction. (An interesting read for all grade levels.)
Regardless of what grade level or subject you teach, check out all three K-12 journals. As you skim through titles and descriptions of the articles, you may find ideas for lessons that would be interesting for your students, the inspiration to adapt a lesson to your grade level or subject, or the challenge to create/share your own lessons and ideas.
The Science Teacher – Scientific Reasoning and Argumentation
Editor's Corner: Scientific Reasoning and Argumentation – "When students defend and critique scientific explanations, experimental designs, or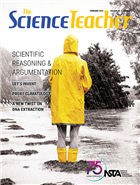 engineering solutions, they learn to create and evaluate arguments using evidence and logical reasoning. Through critical discourse, they are challenged to distinguish opinion from evidence. They learn that argumentation is how scientists collaboratively construct and revise scientific knowledge."
The lessons described in the articles include a chart showing connections with the NGSS. The graphics are especially helpful in understanding the activities and in providing ideas for your own investigations.
These monthly columns continue to provide background knowledge and classroom ideas:
For more on the content that provides a context for projects and strategies described in this issue, see the SciLinks topics Acceleration, Climate Change, Dendochronology, DNA, Motion, Paleontologist, Paleontology, Speed, Velocity
Many authors share resources related to the lessons and strategies in their articles. These resources include rubrics, graphic organizers, handouts, diagrams, lists of resources, and complete lessons. You can access these through the Connections link for The Science Teacher.
Keep reading for Science & Children and Science Scope.