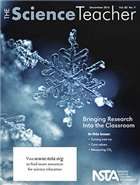 Elementary and middle school teachers have a real gold mine this month – both journals have the theme of Energy.
Food for thought at any grade level–Commentary: Proactive Leadership in The Science Teacher describes what leadership should look like for teachers, departments, and administrators.
The Science Teacher — Bringing Research Into the Classroom
This issue goes beyond talking about research results to describe students actually doing authentic research—planning and carrying out investigations, generating and evaluating data, and developing explanations or designing solutions. The lessons described in the articles include connections with the NGSS.
For more on the content that provides a context for these projects and strategies see the SciLinks topics Carbon Cycle, Chromosomes,  Climates of the World, Fission, Fusion, Genes, Genome , Greenhouse Gases, Ice Ages, Nutrients, Respiration, Water Cycle
Keep reading for Science Scope and Science & Children