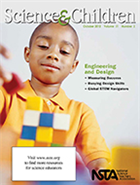 October's K–12 journals from the National Science Teachers Association (NSTA) highlight unique trends in science eduction.
Science and Children, for elementary educators, hones in on one of the major shifts in the Next Generation Science Standards—the significant focus on engineering. This issue provides several approaches that can be used to support elementary students as they delineate problems, design solutions, and optimize their design solutions. Check out this free article to get a sense of the issue: Wacky Weather.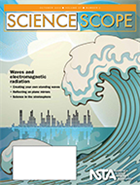 Science Scope, for middle level and junior high school science teachers, takes on the misconceptions students have about waves and electromagnetic radiation. To make sure you and your students are on the same wavelength when confronting these concepts, check out the collection of activities in this month's issue. We're sure they'll spread the full spectrum of light on the world of waves. The following free article Reflecting Understanding: Using Lab Stations to Teach Image Formation is available from the issue.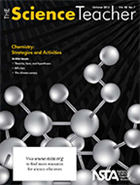 The Science Teacher, NSTA's high school level journal, clarifies how the Next Generation Science Standards (NGSS) establish performance expectations for students that integrate three important dimensions—science and engineering practices, disciplinary core ideas, and crosscutting concepts—and incorporate important concepts of engineering. Maintaining a teachable number of core ideas was clearly a priority for the NGSS writers. For example, only eight high school level performance expectations directly relate to chemistry. Teachers can help students reach expectations by using the core ideas with a variety of instructional practices. This issue brings together several articles on chemistry that will help science teachers meet the challenges of today's classroom. This month's free article All Screwed Up can be accessed online.