Regardless of what grade level or subject are you teach, as you skim through the article titles, you may find ideas for lessons that would be interesting your students or the inspiration to adapt/create/share your own.
Special thanks to Linda Froschauer (My Last Editor's Note)! Under her leadership as editor of Science & Children she has provided all of us with ideas and inspiration! Rather than "retiring," I suspect she'll be "retooling" into other ways of contributing to science teaching and learning.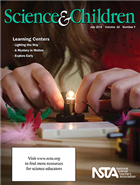 Science & Children – Learning Centers
 Another big change at S&C is the retirement of Bill Robertson, author of Science 101 which appeared in every issue. In his last column, Science 101: How Do We Best Teach and Learn Science Concepts?, he shares a technique he uses as an introduction to how people learn and how to teach for understanding rather than memorization.
The lessons described in the articles include connections with the NGSS.
These monthly columns continue to provide background knowledge and classroom ideas:
For more on the content that provides a context for projects and strategies described in this issue, see the SciLinks topics Butterflies, Constellations, Electric Current, Energy, Forces and Motion, Life Cycle of a Star, Light, Living Things, Magnets, Natural Disasters, Seed Germination, Simple Machines, Stars, Weather
Continue for The Science Teacher and Science Scope.