All three journals this month include the inaugural Best STEM Books for Students K–12 with descriptions and reviews. The rubric and criteria used in selecting these books is also provided. Share it with your librarian, too.
Crowdfunding for Elementary Science Educators in S&C has fund-raising ideas applicable to any grade level.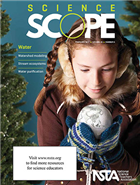 Science Scope — Water
From the chemistry of water to the biology of water habitats and ecosystem to the relationship of water and weather to the importance of water in the body to current events related to access to clean water, water is indeed an Essential Substance.
Featured articles that describe lessons include a helpful sidebar ("At a Glance") documenting the big idea, essential pre-knowledge, time, and cost. The lessons also include connections with the NGSS.
For more on the content that provides a context for these projects and strategies see the SciLinks topics Algae, Aquatic Ecosystems, Eclipses, Freshwater Ecosystems, Groundwater, Ocean Water Chemistry, Photosynthesis, Water Cycle, Water Properties, Water Quality, Water Treatment, Watersheds
Continue for The Science Teacher and Science and Children